I love making hats!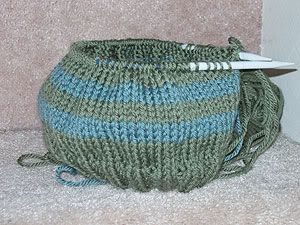 This is the hat I'm working on at the moment. It's really simple, I did a little bit of 2x2 ribbing at the bottom and made a couple of blue stripes for a little bit of interest. Right now I'm debating adding a pom pom after it's finished, but first I should probably decide who this one is a gift for. If anyone's interested, it's made out of Mission Falls 1824 Wool. The colors are #16 Thyme and #20 Cornflower. Blue and green are my favorite colors, and for some reason I love putting them together.
I've finished three hats in the past month and a half or so. They're my default holiday knitted gift this year, because they're fast and fun to make. Once you get hat-making down (and it doesn't take long), you can really get creative with them. There are tons of mix and match options for the base of the hat and the stitch pattern, and the colors you use.
Yes, I'm preaching to the choir here because we're all working on hats. But I just love to gush about them right now. It's partly because I'm proud of myself, my hats are getting dramatically better. For a simple style like this one, I don't even look up patterns anymore. I just make a little swatch, do a tiny bit of math, and cast on. It makes me feel smart. So in addition to their other charms, hats are great for our egos!